Currently World of Haiku has two ways of being installed: via Steam, and via Xsolla, which is World of Haiku's Stand-alone Installer.
First Option - via Steam:
Connecting World of Haiku Steam Account to Haiku Pro:
Launch World of Haiku Steam > Settings > Integration. Click Connect under Haikupro.com.


From here you will be asked to Sign in to your HaikuPro.com account. If you do not have an account, you can click Sign Up Here where you will be redirected to HaikuPro.com to create an account. Note that World of Haiku can connect to a free Haiku Pro account. It is not necessary to have a paid plan to connect World of Haiku to Haiku Pro. Once you have created your account, return to World of Haiku and log into Haiku Pro.
Integration is now complete. Your World of Haiku Steam Install has now been integrated with your Haiku Pro Account.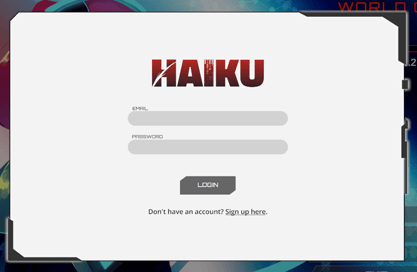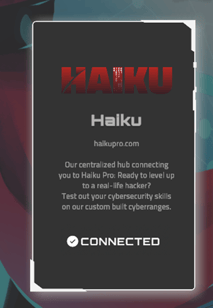 Second Option - via the Xsolla launcher directly from worldofhaiku.com: Connect World of Haiku Xsolla Stand-alone Install with Haiku Pro Account.
When you first launch the Xsolla Stand Alone Installer for World of Haiku, it forces you to create a Haiku Central (the Haiku middleware between our games) Account.
After you have created this account, you can than log into Haiku Pro at https://app.haikupro.com/signup using the same email address and password you used to sign up for Xsolla Stand Alone Installer for World of Haiku. Your Haiku Pro account will be integrated automatically with your World of Haiku Xsolla Account. Note, it is important that you use the same email for both Haiku Pro and the Xsolla launcher or your accounts will not be connected.


***If at any point you change your password in Haiku Pro, you will need to reconnect World of Haiku Steam Installation with your Haiku Pro Account again. You will be prompted automatically to fix this issue when you launch World of Haiku, or you can follow the First Option again.